Peter Klasen is a painter, photographer and sculptor born in Lübeck in 1935. The founder of Narrative Figuration, the artist thus perpetuates since 1960 a visual language exploring our urban environment's symbols. This week, we present two paintings as well as a selection of prints.

The "encounter-paintings"
Peter Klasen
Brake Control
Acrylic on canvas with collage of materials (wood and cardboard).
From 1960 onwards, Peter Klasen produces his first "encounter-paintings". The painting places cutout images onto to the canvas and their representation via painting. Then he progressively adds regular consumer products: elements such as manometers, public work engine steel sheets, metallic locks or pieces of wood like in this work entitled Brake Control.
In 1974, he starts a new series inspired by a work around confinement and a reflection around the Holocaust. He represents close-ups without perspective of fences, locked doors, numbers.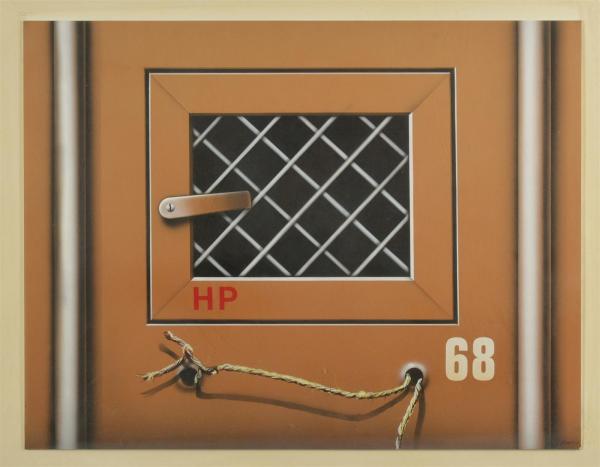 Peter Klasen
Container with fence, 1979
Gouache on cardboard
Painting the horror
To understand Peter Klasen's practice, it is neccessary to be aware of the historical context at the moment of his birth. The Second World War erupts when he is only four years old. He loses his father and uncle during this conflict. Reacting to this horror, the young artist seeks out a new language and finds it in signs and symbols. He takes in interest in images used by media and his works reflect critical thought around the world surrounding us. Peter Klasen would increasingly add fragmented images of the female body, taken from advertising posters, cinema posters and magazines, like a wartime reminiscence.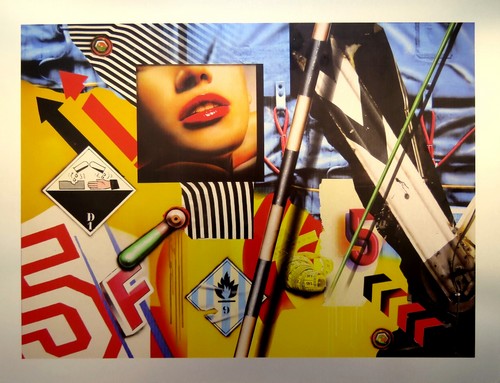 Peter Klasen
Corrosif/5F/Manette Verte, 2018
Digital print on panels, aluminum aspect
The artist grows up within a family with artistic affinities. His uncle (who was Otto Dix's student) is an expressionist painter of portraits and landscapes and his grandfather a patron and collector. Peter Klasen thus starts to draw and paint at a very young age. He learns lithographic techniques, aquagravure and airbrushing, techniques he would regularly use.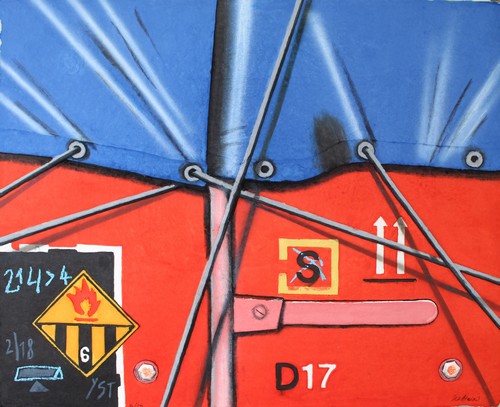 Peter Klasen
Bâche
Original handmade aquagravure on paper
© Photo: Peter Klasen during his opening at La Serre, in Montpellier - Virginie Moreau / HJE.