Marc Chagall counts as one of the greatest artists of the 20th century. His dreamy, colourful paintings are distinctive, and this personal universe is also evident in his prints. Did you know that he produced more than one thousand lithographs during his career? These prints are sought after by collectors and fetch high prices. This week we pay tribute to this production with three lithographs signed by the artist.
The Violoniste au coq is composed of typical elements that refer to the painter, his memories and his dreams. In this lithograph, several characters and animals are represented, including the cock, a recurrent element in Chagall's oeuvre. The violinist at the centre of the composition refers to Chagall's passion for music. As great music lover, it is a theme that runs through his work. He created several settings and costumes for ballets as well as decorative programmes for the Paris Opera and the Metropolitan Opera in New York.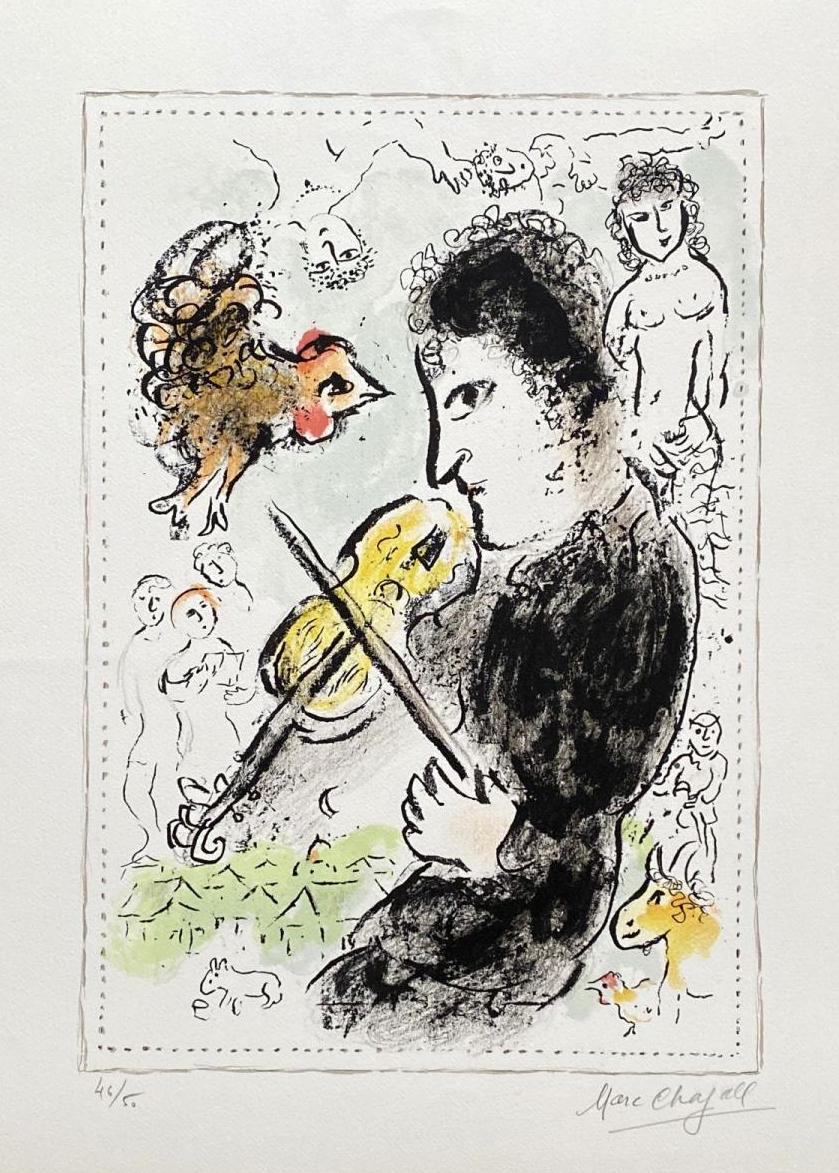 Marc CHAGALL
Violonist with a rooster, 1982
Original lithograph
Handsigned in pencil
Numbered /50 copies
On Arches vellum, size 65 x 50 cm (c. 26 x 20 in)
Catalogue raisonne "Chagall lithographe" n°1000
This lithograph take up the characteristic symbol of Marc Chagall's work, the rooster. This animal refers to the Russian painter's childhood and is a source of inspiration that he would use regularly. It is often said that the cock represents a personification of Chagall. The animals that populate his works are autobiographical symbols. Marc Chagall said: "I used cows, farm girls, cocks and the architecture of the Russian province as formal sources, because they are part of the environment in which I grew up and which undoubtedly left a deeper imprint on the visual memory I retained from my experiences."
The printed work of Marc Chagall
He created his first prints at the age of 35 under the guidance of the German publisher Paul Cassirer, when he was already an established painter. After the Second World War, he introduced colour into his lithographs and began his famous series of Mille et une nuits, The Bible, The Cirque and Daphnis et Chloé.
Chagall was a talented engraver mastering the techniques of lithographs, etching, aquatint and drypoint, monotype and heliogravure. He produced prints in black, but above all in colour. The colour is added in successive layers during the printing process, occasionally he hand-coloured some works.
From 1950 onwards, he collaborated with the famous engraver Charles Sorlier, who assisted him with his prints at the Mourlot printing studio. The engravings commissioned by Ambroise Vollard were taken over by the publisher Tériade after his death.