Maurice Utrillo's favourite subject to paint was Montmartre. He has often been criticised for tirelessly repeating the same themes. However, the painter did not always represent Paris, he also loved flowers. This week discover two signed compositions by the painter from Montmartre.
A subject inherited from his mother
This superb composition with hydrangeas, dating from 1938, takes up on his mother's legacy. In 1921, he said: "... It is always a great pleasure for me to look at my mother's canvases, to see and see again the admirable work she does with such genius, she is an artist who paints wonderfully well and with such sincerity". Suzanne Valodon, Utrillo's mother, was a renowned artist. Encouraged by Degas, she embarked on a career as a painter and made a name for herself in the art scene of Paris. Famous for her nudes, she also painted still lifes, especially bouquets.
Maurice Utrillo (1883-1955)
Les Hortensias, 1938
Gouache and original watercolor
Truth of the representation
This composition by Utrillo depicts blue and pink hydrangeas in terracotta pots. The brushstroke is vivid and the hydrangea flowers melt into the foliage of the shrub. Blue touches of colour blend with the pink flowers and vice versa. Utrillo used gouache and watercolour, two mediums that lend themselves to the creation of a live subject. As usual, Utrillo grasps the essential, neither too much nor too little, the truth of his gaze shines through with accuracy and sincerity. Signed on the lower right, the work is included in the catalogue raisonné Pétridès. It bears a gallery label on the back and is accompanied by a certificate from the Utrillo Committee, dating from July 12th, 2019.
The Moulin de la Galette : a recurring topic
The Moulin de la Galette and le Maquis are two recurring subjects in Maurice Utrillo's work. This oil and gouache on cardboard dates from September 1924. During this period, Utrillo used the subject of the mill from every angle and by using different mediums: sketches, paintings, drawings. It was also from the 1920s that his colourful period began.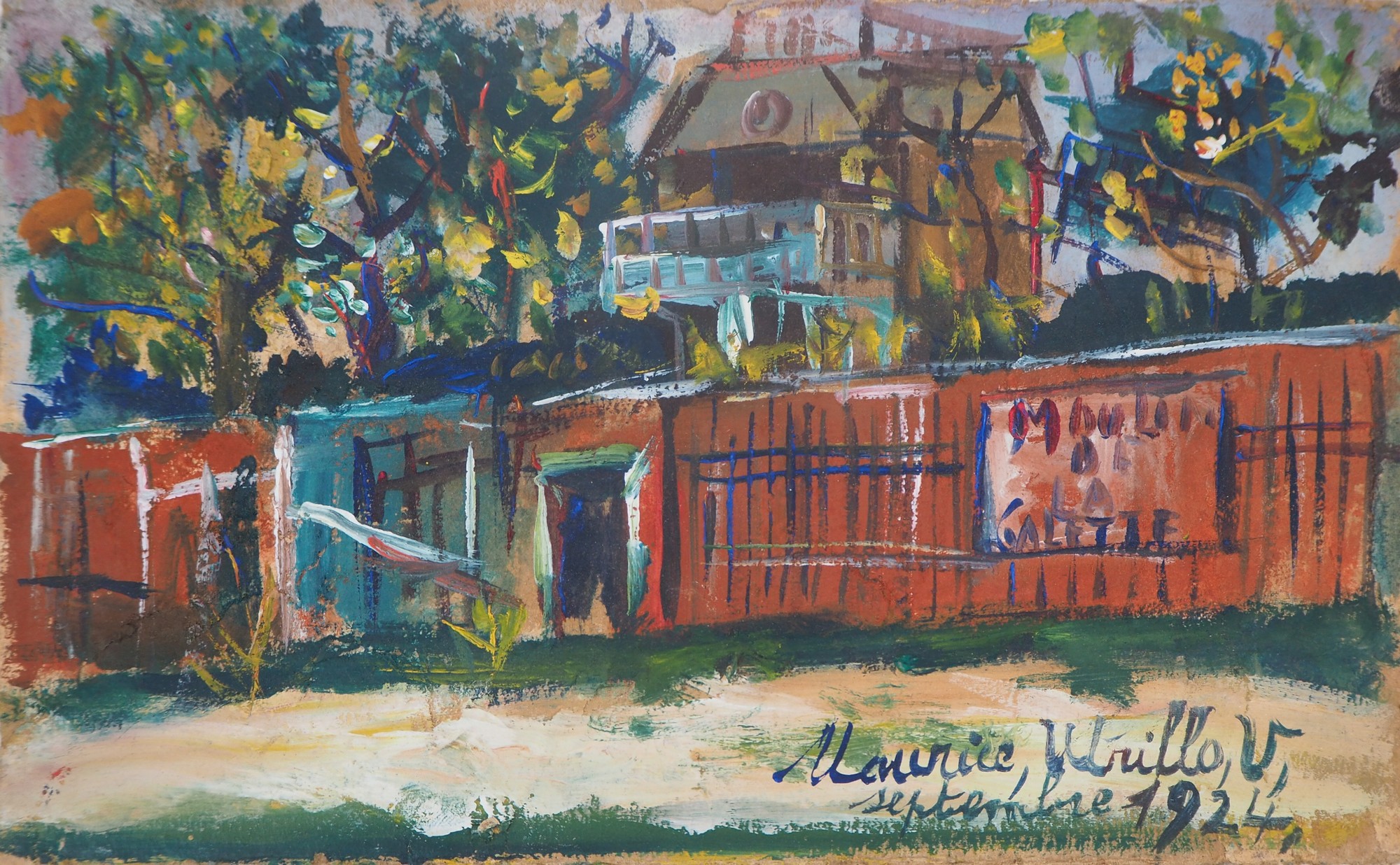 Maurice Utrillo
Montmartre: the Moulin de la Galette and the Maquis, 1924
Oil and gouache on cardboard
This composition is notable for its warm colours and the small yellow touches which lighten the composition. The trees seem to come alive in a barely perceptible sky. Utrillo's signature is imposing in the lower left corner. According to some contemporaries, the merchant Libaude often criticised Utrillo for having a too large signature.