Leading figure of the Pop Art movement alongside Roy Lichtenstein and Andy Warhol, Tom Wesselmann has spent his life distorting popular imagery with a specific colour palette. An undisputed fan of Henri Matisse, he retained the master's use of pure colour and a keen sense of composition. This week, we present to you a work from the Smoking Cigarette series.
Tom WESSELMANN (1931-2004)
Smoking cigarette in ashtray, 2000
Liquitex on cut bristol board
Making the ordinary elegant
In Smoking cigarette in ashtray, a smoking cigarette is placed on a red ashtray. This pictorial composition is characteristic of the imagery used by the artist. Tom Wesselmann has adapted traditional painting styles throughout history, such as the still life here. This pictorial composition between collage and painting gives the cigarette a certain elegance. At the end of his life, Tom Wesselmann reduced his references to popular imagery and turned more and more to abstraction. This work from 2000, 4 years before his death, almost embraces the characteristics of a non-figurative work with the large areas of colour and extremely simplified lines. This work illustrates his perfect handling of colour but also of line. Smoking cigarette in ashtray is made of cut-outs that are reminiscent of Henri Matisse's paper cut-outs that he particularly admired.
The cigarette is an element found in many of his works. In the 60s and 70s, it was considered an almost sexy symbol. Wesselmann's works depicting red lips with a cigarette show the sensual, almost erotic aspect of smoking a cigarette.
This work is made on Bristol board and painted with liquitex (a form of acrylic). It is signed and dated "wesselmann '00" in the lower centre, titled and annotated "Smoking cigarette in ashtray, D0015" on the back on a label that repeats the annotations on the back of the work. It is registered in the Tom Wesselman Estate Archives under the inventory number D0015.
The artist's works are increasingly sought after by Pop Art collectors and the record prices of his contemporaries Warhol and Lichtenstein, which amount to nearly 100 million dollars, are no stranger to the craze for Tom Wesselmann's works.
Tom Wesselmann
Tom Wesselmann was born in 1931 in Cincinnati. Wishing to become a cartoonist, he went to New York to study at the Cooper Union from which he graduated in 1959. Finally, he abandons the comic strip to devote himself to painting. At a time when many artists were abandoning figurative painting in favour of abstraction, Tom Wesselmann went against the current trend and focused on the elements of urban life to represent them in a suggestive, sensual way, positioning them as icons. Inspired by advertising imagery, his ambition was to depict modern life.
The American artist is very interested in collage, a historical practice that can be seen in Richard Hamilton's Just what is it that makes today's homes so different, so appealing?, considered as one of the first Pop Art works of the time.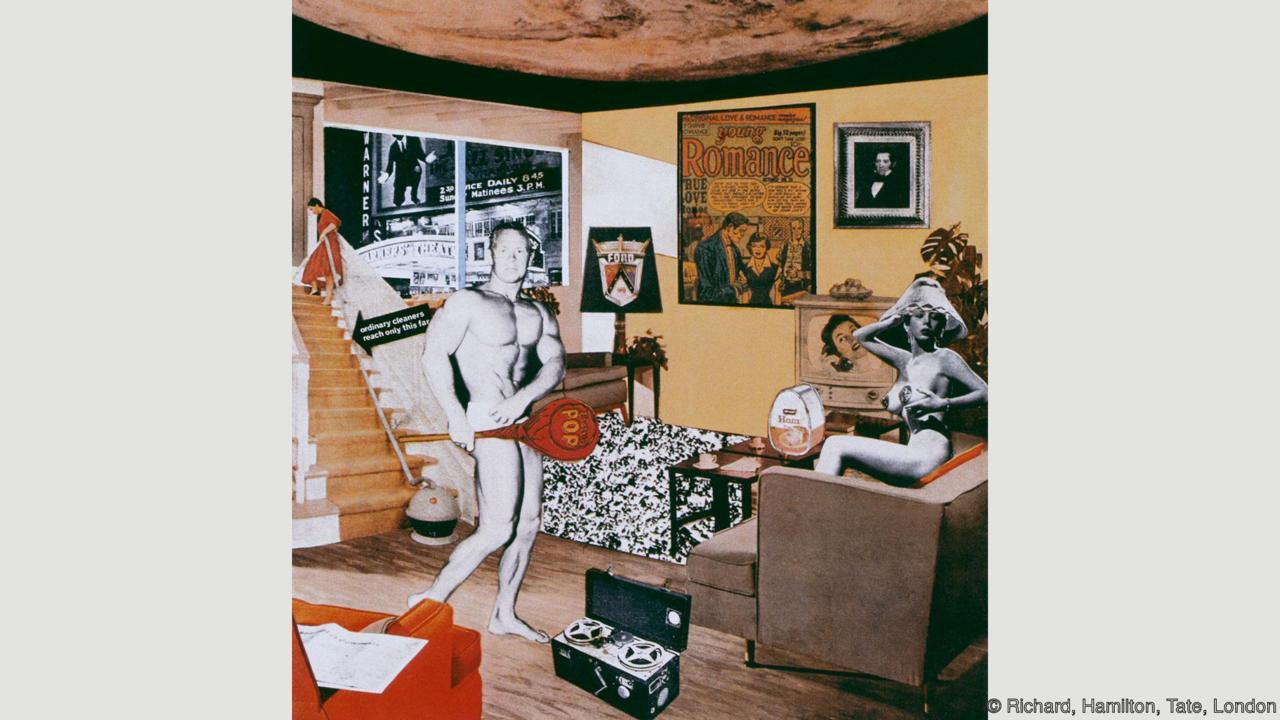 In his compositions, whose base remained painting, he included various objects mainly in relief, as well as his collages. His Bathtub Collage of 1963 features a young woman in the shower painted on canvas. In front of the painting are fitted a shower curtain, a laundry bas.