Pierre Alechinsky says "At the tip of the brush. Sometimes - I live for these moments - I invent a line." The Belgian painter born in 1927 was a member of the CoBrA group. This week's focus lays on a watercolour and ink drawing made in 1993.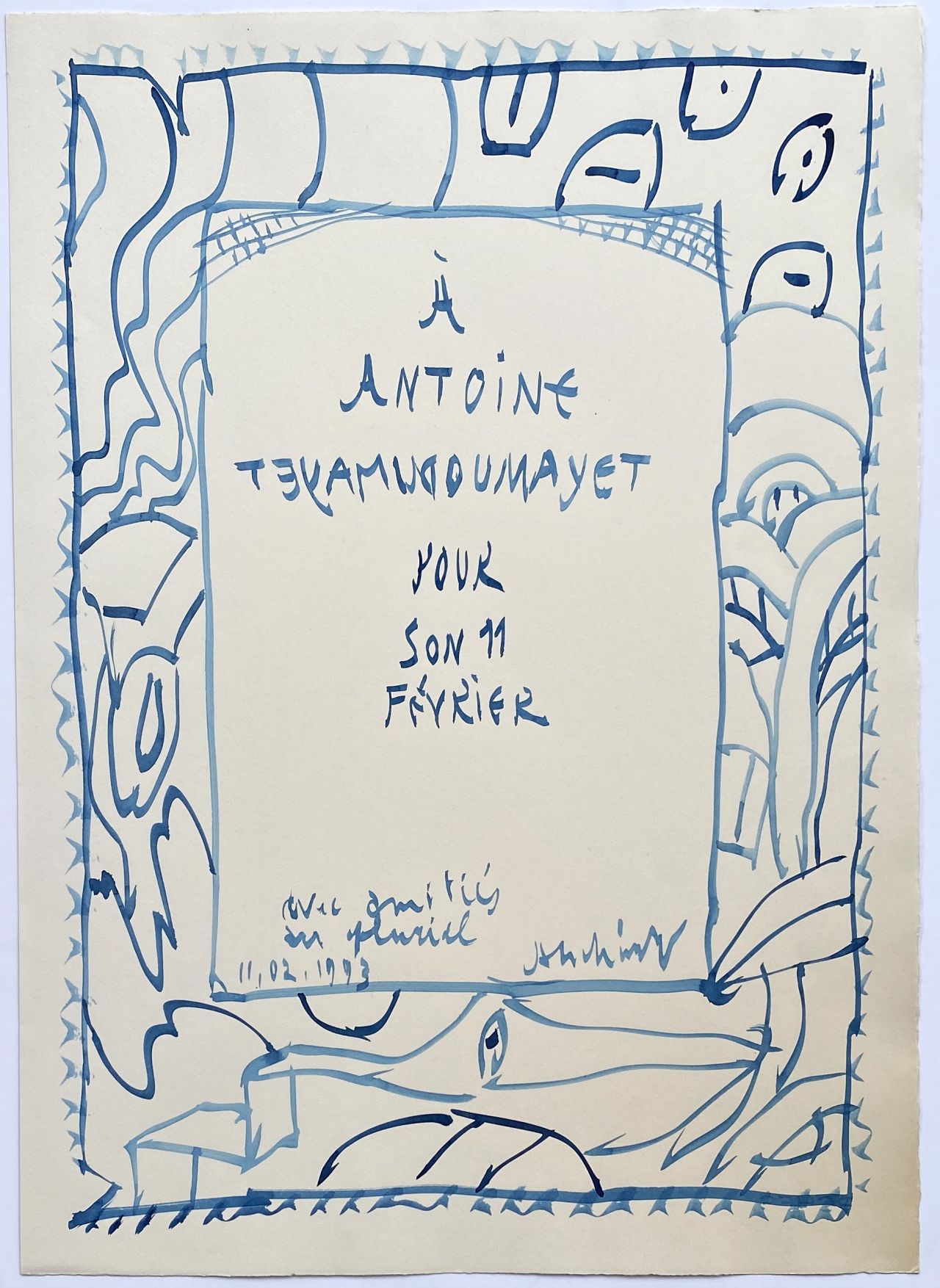 Pierre Alechinsky
Blue composition, 1993
Watercolour and ink
A work dedidated to Antoine Dumayet
The drawing on paper is dedicated to Antoine Dumayet, son of Pierre Dumayet, a journalist and television man, and a friend of the artist who passed away in 2011. His work is influenced by the traditional calligraphy practices. His encounter with the Chinese painter Walasse Ting was decisive. The latter teaches ancestral art, the way to use the brush with the paper laying on the floor. Paper, ink and acrylic will become the preferred mediums of the artist.
Multiple influences
From 1944 to 1948, Pierre Alechinsky studied illustration, typography and printing techniques at the Ecole Nationale Supérieure d'Architecture et des Arts Décoratifs in Brussels. During this period, he discovered the work of Henri Michaux and Jean Dubuffet, as well as the Surrealists.
At the beginning of the 1950s he met the poet Christian Dotremont, one of the founders of the CoBrA group, with whom he became friends and joined Karel Appel, Constant, Jan Nieuwenhuys and Asger Jorn. He participates in the first Cobra exhibition at the Stedelijk Museum. They wanted to liberate the artistic creation from the codes of geometric abstraction and figurative art. They value spontaneity and experimentation.
A new kind of painting
Alechinsky gave birth to a new type of painting which he called "painting with marginal remarks": it consists of a central image framed by a series of vignettes in the margins. Inspired by engraving and comic strips, these vignettes complete the central representation and thus make it more explicit. On this subject he explains that this painting is close to the "decorative edges of tapestries and therefore reintegrates itself into the ancestral tradition". Numerous institutions have devoted retrospectives to Alechinsky, such as the Carnegie Institute in Pittsburgh, the MoMA, the Solomon R. Guggenheim Museum and the Galerie nationale du Jeu de Paume.
Photo: Pierre Alechinski at the inauguration of the exhibition "Alechinsky, les ateliers du Midi" in Aix-en-Provence on June 4, 2010 • Credits: Gérard Julien - AFP