Since the end of the 1990s, Picasso's ceramics became more and more popular. Initially ignored by museum curators and exhibition organisers who did not understand their substance, they have regained popularity and regularly reach record prices at auction. This week, we present an exceptional collection of ceramics made by Picasso in Vallauris in the Madoura studio between 1948 and 1971.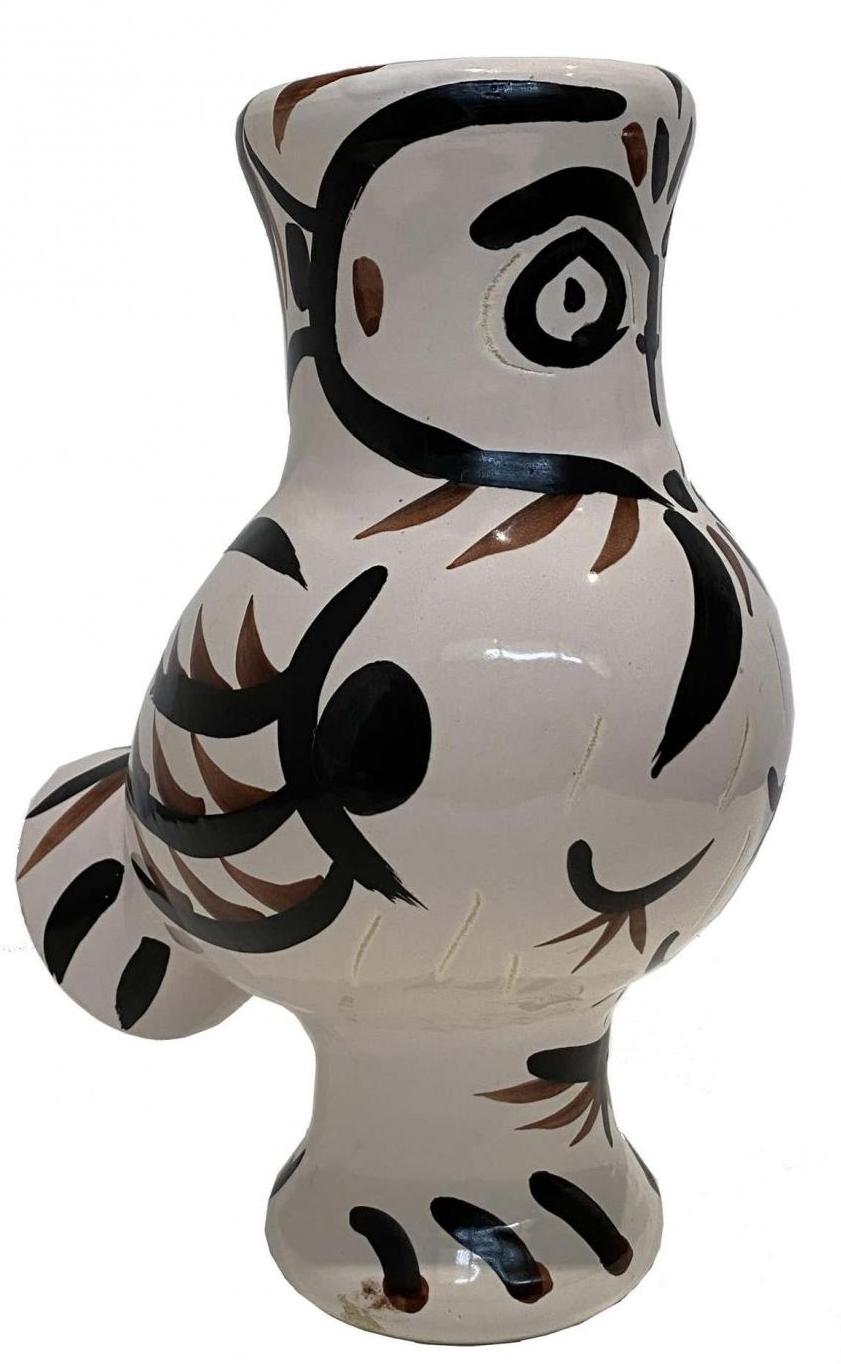 Pablo PICASSO
Owl with feathers, 1950

White earthenware pitcher
White enamel, black and brown slip with a brush, partially engraved with a knife
Made in the Madoura workshops (Vallauris)
Authenticated by the stamp of the workshop (Madoura plein feu), annotated Edition Picasso
Limited edition of 300 copies
Height approx.30 cm

References :
- Catalog raisonné of Picasso's ceramics: Alain Ramié n ° 122
The decorations of Picasso's ceramics take up famous themes of his works. One example is this zoomorphic pitcher featuring an owl. The artist had a real fascination for nocturnal birds. Owls inspired many of his sculptures and ceramics. Other recurring subjects include various animals such as doves, but also portraits, bullfighting scenes and dance.
At the end of the 1940s, Picasso designed his first ceramics and invented his own forms. He also created the decoration for his ceramics. The colours obtained by baking allowed him to experiment and to perfect the manufacture of slips (a slip is a thin coating based on diluted clay (coloured or not), applied to a ceramic piece (shard) to modify its natural colour).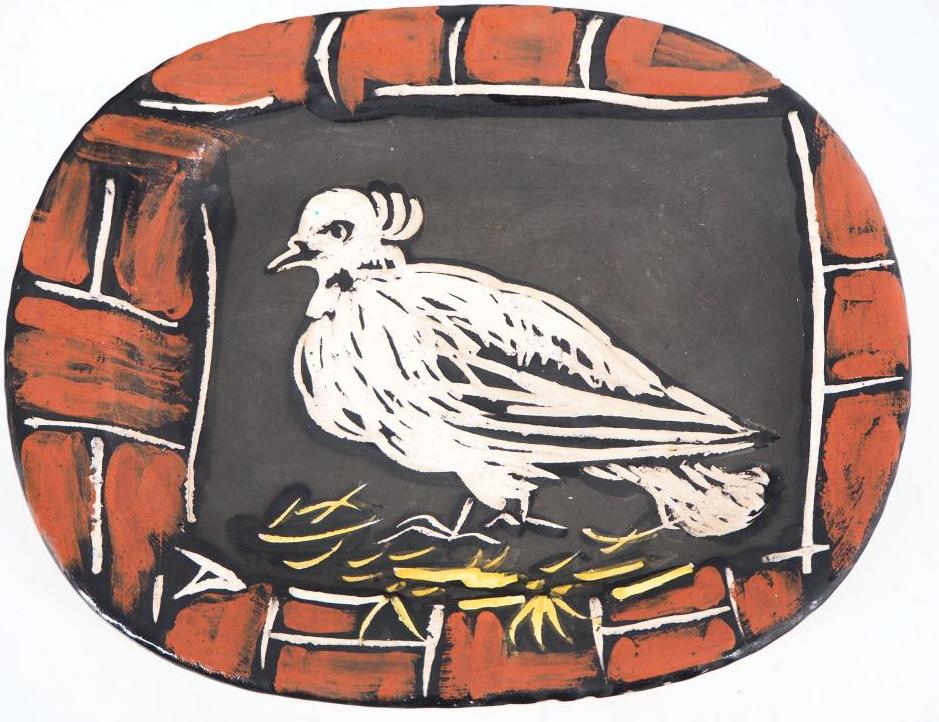 Pablo PICASSO
The Dove, 1948

Large white earthenware dish, decoration with engobes, partially glazed, knife engraving
Made in the Madoura workshops (Vallauris)
Bearing on the back the words "Edition Picasso" and "Madoura Plein feu"
Limited edition of 450 copies
31.5 x 38.5cm (about 5cm thick)
Catalog raisonné of original Picasso ceramics, Alain Ramié # 77.

To produce his ceramics, the Catalan master used different techniques such as incision, slip and enamel. From 1964 onwards, he even perfected the linocut technique, which he adapted to his ceramic practice. The linoceramics result from a plaster moulding of the linocut plate, then an overmoulding in clay.
With his production of ceramics, Picasso wanted to make his works accessible to as many people as possible by giving them a practical function. We will remember in particular this famous sentence addressed to André Malraux: "I have made plates, you were told? They are very good. You can eat off them (...)".
The story of the collaboration between Pablo Picasso and the Madoura studio
It all began in 1946 when Picasso went to Vallauris with his girlfriend Françoise Gilot. There he met Georges and Suzanne Ramié, owners of the Madoura studio, during a ceramics exhibition. The famous Vallauris studio is the acronym of the first syllables of their names, Maison, Douly (Suzanne's birth name) and Ramié. The two spouses founded the studio in order to allow artists to reintroduce the craft of creating ceramics.
The following year, Picasso returned to Vallauris with new ideas and began his first creations. He settled down from 1948 to 1955 where he navigated between the creation of sculpture in his Fournas studio and the production of ceramics in the Madoura studio. The latter was prolific, with an estimated 4500 pieces. The Madoura studio became the exclusive publisher of the Spanish artist's ceramic work.