This week, discover remarkable drawings by the artist Ernest Pignon-Ernest.

Initiator of urban art well before Banksy and JR,the artist who overlays images on the walls of cities has been exhibiting since this summer at the great chapel of the Palais des Papes in Avignon. The exhibition "Ecce Homo", visible until the 29th of February 2020 presents his creations for more than 50 years and explores the artist's creation process throughout streets from across the world.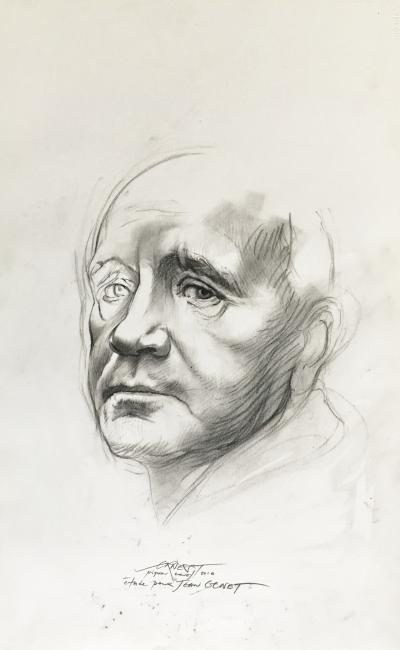 Ernest PIGNON-ERNEST - Portrait of Jean Genet, 2010
signed original drawing in black stone
----
Ernest Pignon-Ernest is born in 1942 in Nice, he lives and works in Ivry where he has his studio. In 1960, the artist began working in the streets. On the walls of big cities, he challenges people by clearly displaying his political commitment with subjects that echo past events such as the homeless, abortion, incarceration, refugees... Socially committed, he began by denouncing the Algerian war in the 1970s, he also became involved in South Africa against apartheid or in Palestine. He spreads his images to denounce the thousands of silent victims to whom he allows to exist through his art. Ernest Pignon-Ernest's sketches, drawings, stencils and collages are made with charcoal or black stone. He uses an eraser to create shadows and reliefs for his characters. He then reproduces them in silkscreen printing in order to stick them on the walls of cities all over the world. The artist then keeps all his preparatory work and photographs in situ. Some of his works have become very famous, such as "Rimbaud". Produced in 1978 and reproduced in several print, it was then glued in many cities.