Man Ray (1890-1976) is known as the photographer of surrealism. However, the artist experimented with many other mediums and techniques such as engraving. The latter allowed him to diffuse his art to a wider public. This week we present a selection of prints and photographs by the surrealist artist.
Portrait of Duchamp
Man Ray photographed Duchamp on numerous occasions and collaborated with the artist to create the image of Rrose Sélavy, Duchamp's female alter ego. In 1923, Man Ray painted the portrait of Marcel Duchamp, Cela Vit, on which this print is based. Man Ray used Hans Hoffmann's portrait of Duchamp (photograph from 1912) as a starting point for this work.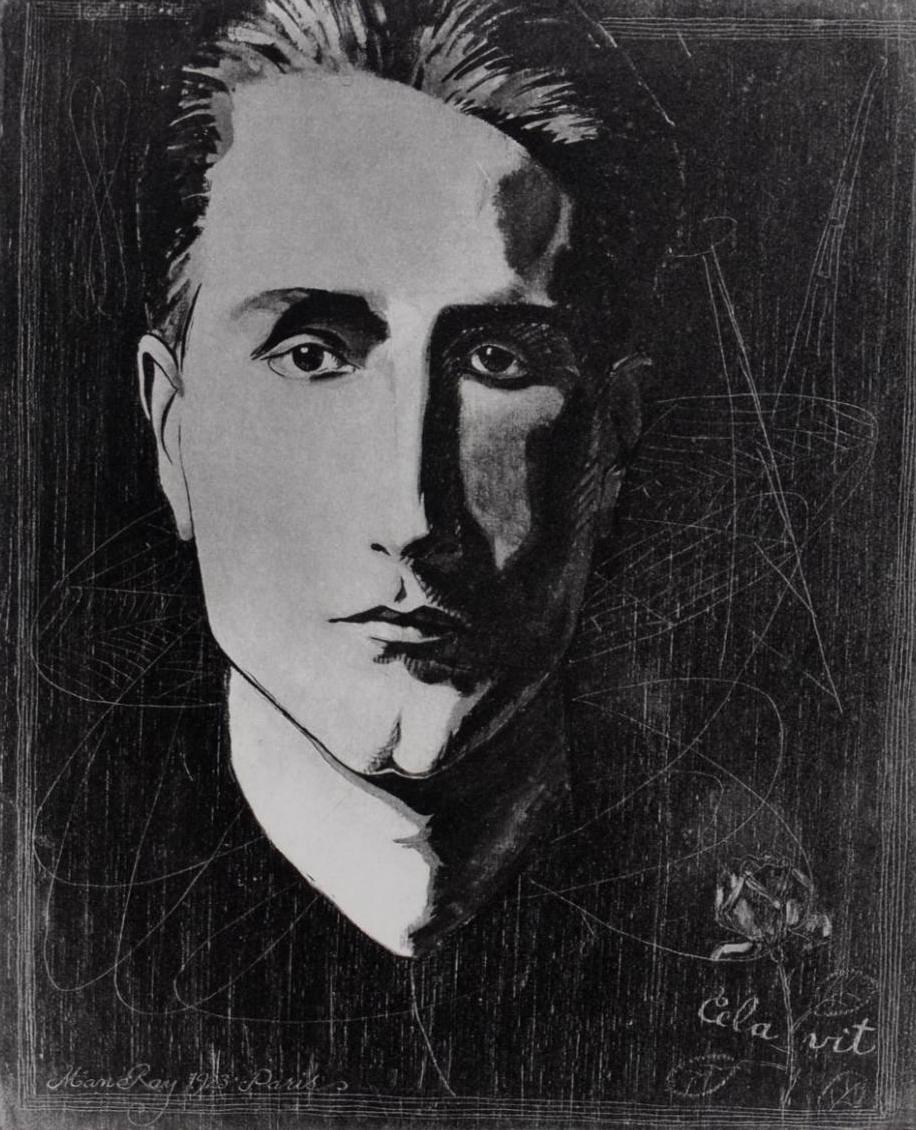 Man Ray
Cela Vit (Portrait of Marcel Duchamp), 1971

From the portfolio "Monument à Marcel Duchamp et Christophe Colomb"
Aquatint on Arches paper
Hand-signed bottom right & Numbered 105/125
Published by Georges Visat, 1971.
On the lower right of this engraving, Man Ray uses a rebus-like inscription, combining an image of a rose with the words "Cela Vit", homophone of "Sélavy" and "c'est la vie". Man Ray took an example of the original "rayograph" and had it transferred to a photosensitised copper plate. The plate was then reworked directly in engraving and aquatint. This engraving, published in only 125 copies, is the only evidence of the original portrait made by the artist.
While practising photography, Man Ray perfects his engraving techniques. He frequented the great workshops and produced numerous works with surrealist writers: Louis Aragon, André Breton, Paul Eluard and Marcel Duchamp. In 1921, Man Ray moved to Paris and, with Duchamp, joined the French Dada movement. During this period, he began to create his first ready-mades.
Man Ray and photography
Photography as a In the Mr. and Mrs. Woodman series of photographs, Man Ray uses wooden mannequins. His last, frequently used by artists to carry out studies of movement for example, are here diverted from their primary function and used to illustrate suggestive positions. In a surrealist manner, Man Ray proposes his own study from existing objects (ready-made). Thus, the photograph becomes the unique testimony of the work.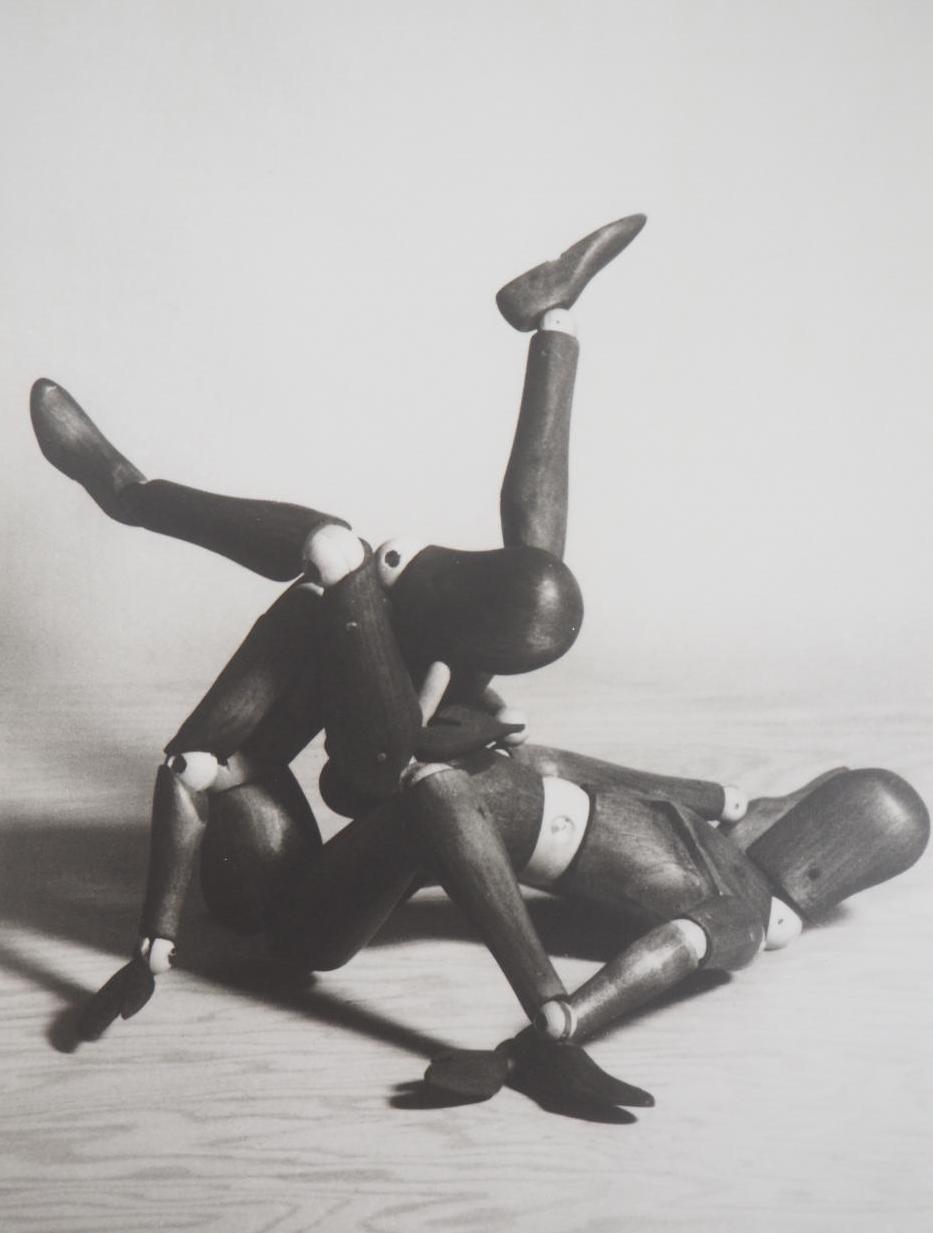 Man Ray
Mr and Mrs Woodman, 1970

Original silver print
Artist's signature stamp on the back
On silver paper 17.2 x 13 cm
Limited edition of 50 copies (unnumbered)
Unique edition produced in 1970
limited to 50 copies, a copy of the proof of the edition will be attached to the photograph
Man Ray : engraver and photographer
An often overlooked fact, Man Ray played a decisive role in the diffusion of graphic arts. He discovered engraving in 1914, a period during which he also experimented with the photographic medium. At first, he took photographs to document his paintings. He began by making engravings on glass (clichés-verre). The technique consists of drawing on the surface of the glass, which has been coated with an opaque varnish, using an instrument. The plate is then used as a negative to obtain a photographic reproduction of the original drawing by contact. Man Ray was interested in the medium and adopted it eventually in his practice beyond the simple documentation of his works.
At the end of the 1920s, the artist experimented with other techniques such as the rayograph (an allusion to his name and the word "photograph"). He defined the technique as "a photograph obtained by simply interposing the object between the photosensitive paper and the light source". He was also interested in the photographic process of solarisation, a technique of overexposing light to produce aura effects and blurred shapes.
Through his photographic and print experiments, Man Ray spread his work more widely. This also enabled him to contribute to the development of research by Dadaist and Surrealist artists and writers.