Victor Vasarely, whose real Hungarian name is Gyozo Vásárhelyi, is known as the father of optical art. The artist conceived a language designating art as a common good, shared and understood by all. This week, let yourself be hypnotized by Forgau, a composition on panel.
A universal language
In this work of 1980, Vasarely's plastic language is fully expressed. One can find the forms, combinations and colors used by the plastic artist. The black background accentuates the perspective and highlights the composition which appears as a cellular structure.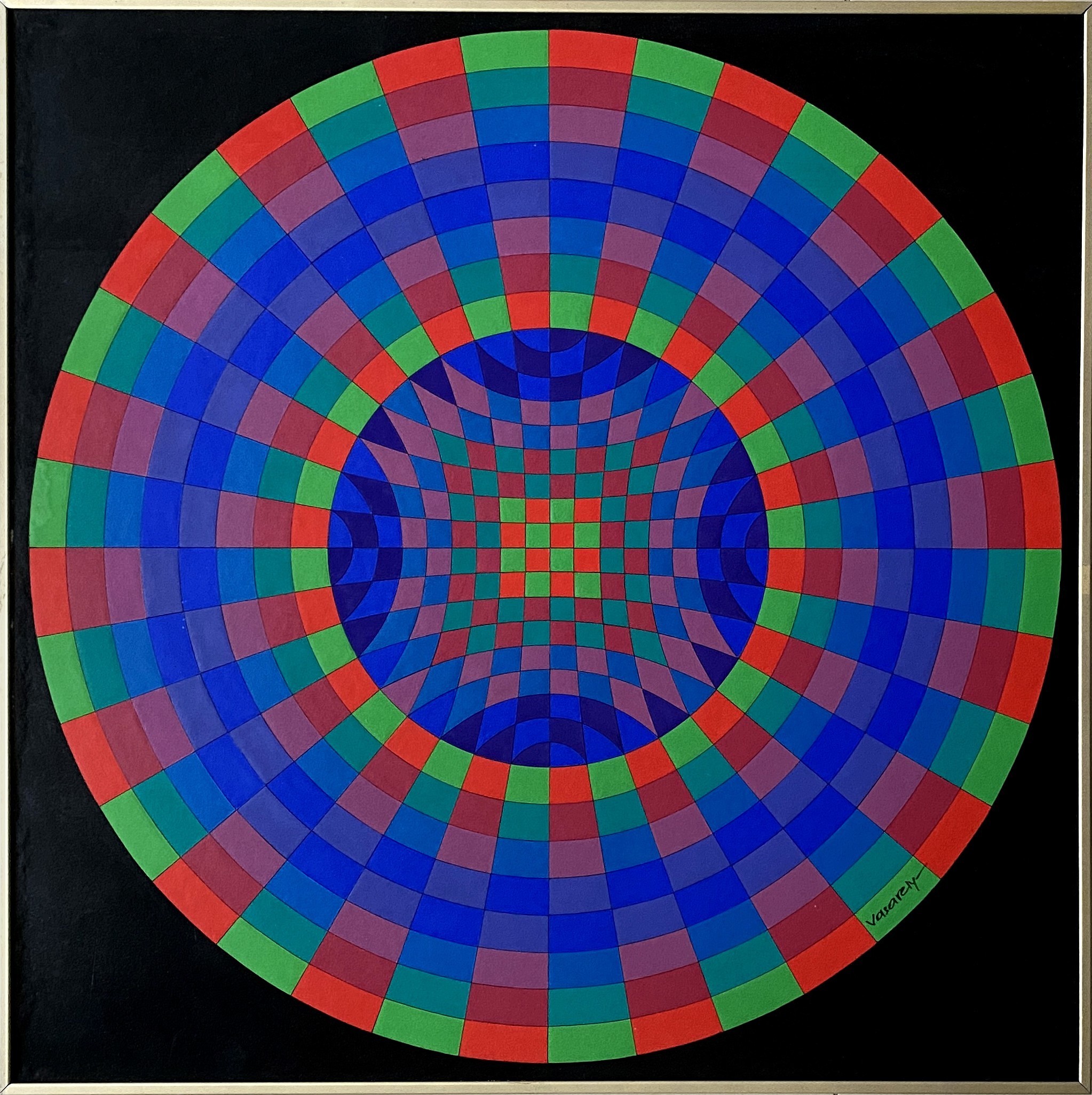 Victor Vasarely (1906-1997)
Forgau, 1980
Acrylic painting
For Vasarely: "There is not a "form" and a "color" separately. They do not make two, but one: the "form-color". » Victor Vasarely defined six simple geometric shapes in pure colors: six rounds, squares, rectangles, ovals, triangles and rhombs that he will multiply, color, stretch and shade to infinity. The invention of this abstract plastic alphabet becomes a method that will allow the creation of a universal abstract language understandable by all.
The influence of the Bahaus
Victor Vasarely began studying medicine, which he abandoned in favor of the Fine Arts (1927-1929). In 1929, he entered the Muhëly, the Bauhaus school in Budapest.
This institution, created by Alexandre Bortnyik, is based on the model of the Bauhaus and also took up the teachings of the Bauhaus. It will have a resounding influence on Vasarely's work. It was during this period that he came closer to constructivism and abstract art. Between 1935 and 1947, he made portraits, landscapes, compositions with animals and still lifes. The artist works on the line, the effects of materials, the play of light and shadow and develops a certain taste for perspective. These themes will be developed in his work a few years later.
Yellow Manifesto
His plastic style began to take shape in the 50s. In 1955, he theorized it with the "Yellow Manifesto », book in which the artist evokes for the first time the notion of "kinetic plastic". According to him, movement is not a matter of the composition or of the subject, but depends on the spectator's gaze, which becomes the main actor.