Often nicknamed "The Montmartre Expressionist painter", Gen Paul no less remains the artist of the instantaneous. This week, we present an oil on panel as well as a selection of watercolours and drawings.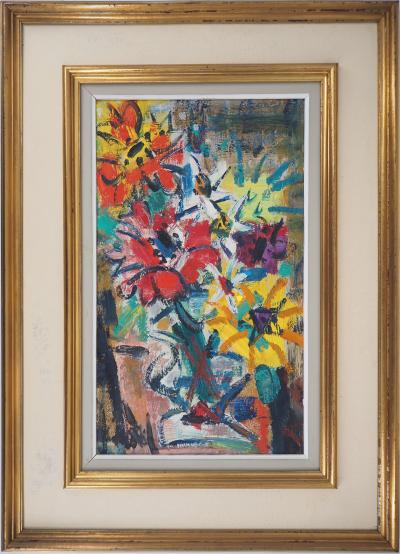 Gen Paul (Eugène Paul, dit)
Colorful Flowers, c. 1940
Still life in motion
This work dated from the 40s is representative of the syle that is so specific to the works of Gen Paul. Flower petals, the vase and the contours are full of motion. The artist makes shapes and colours dance so well that a somple flower bouquet becomes a flamboyant landscape.
A curious artist
Born in 1895 in Montmartre, Eugène Paul takes an interest in all forms of art very early on. He starts painting very spontaneously on astonishing mediums such as cigar packets found in tobacco counters. The First World War breaks out, he conscripts and is injured on the frontlines. At the age of only 20, his right leg must be amputated.
The Bateau Lavoir
After the war, he returns to live in Montmartre where he settled down at Bateau-Lavoir like numerous artists from the period. There he meets Juan Gris who initiates him to Cubism and Eugène Delâtre, with whom he experiments with engraving. In 1920, Gen Paul exhibits at the Salon d'Automne. Six years later, the Bing gallery gives him his opportunity and a personal exhibition.
Two years later, the gallery owner organises an exhibition in which he presents works by Gen Paul, Picasso, Rouault, Braque and Soutine.
Gen Paul: the free artist
The works by Gen Paul are defined by a great freedom of representation. Painter of the everyday, his favourite themes are Parisian landscapes, horse races, musicians or flower bouquets. His Expressionist touch, often calligraphic, translates deep enthusiasm for his subjects and a fascination with movement.