Léonard Tsuguharu Foujita (1886-1968), friend of Modigliani and Picasso, made women and cats his favourite subjects. This week, let yourself be seduced by the sublime lines of this artist of the Roaring Twenties.
In Nu Allongé, Foujita depicted a woman lying on her back with her legs bent to the side. The essence of the artist's work can be found here, with the very special treatment of the skin left in the background, the lively line, the emphasis on the hair and the modelling, which bring out the whiteness of his models' skin. This original aquatint etching is enhanced with white watercolour. It was published at 100 copies and 10 artist's proofs, which makes it a rather rare print. Justified E.A. VI (artist's proof 6), it is also referenced in the Buisson catalogue raisonné #30.57 (volume II, page 513).
Tsuguharu FOUJITA (1886-1968)
Reclining Nude, 1930
Original etching in aquatint, heightened with white watercolor
The main characteristic of his works is undoubtedly the finesse of his line. This line, recognisable among thousands, precise and sensual, is inherited from his apprenticeship. Between classicism and modernity, Foujita achieved a unique synthesis of Japanese calligraphic tradition and his Western heritage. An admirer of the great masters: Da Vinci, Titian, Manet, Foujita freed himself from the codes of these artists to propose a very personal vision of the female nude.
"I believe that felines were given to men so that they could learn about women from them."
Tsuguharu FOUJITA
Cat with a bell, 1924
Original etching (etching on a heliogravure background)
These two themes were taken up again and again by the Japanese painter who in the 1920s was one of the most popular artists of the Ecole de Paris.
The artmarket of Foujita's works
The large oil paintings of nudes are undoubtedly the artist's most sought-after works. Foujita regularly represented a nude and a cat in the same work. One of the artist's records is held by a large painting entitled Nu au chat (Nude with Cat), which fetched over 3.5 million euros. The artist's drawings can also achieve high prices. Certain engravings and lithographs featuring nudes are particularly sought after. More accessible than oils or drawings, the prices of prints range from 3,500 € to 15,000 € and can sometimes reach over 100,000 € for complete series.
If you are fascinated by Foujita's nudes, the Musée Faure (Aix-les-Bains) invites you to discover the exhibition Foujita : les nus des années 20 until October 31st.
Biography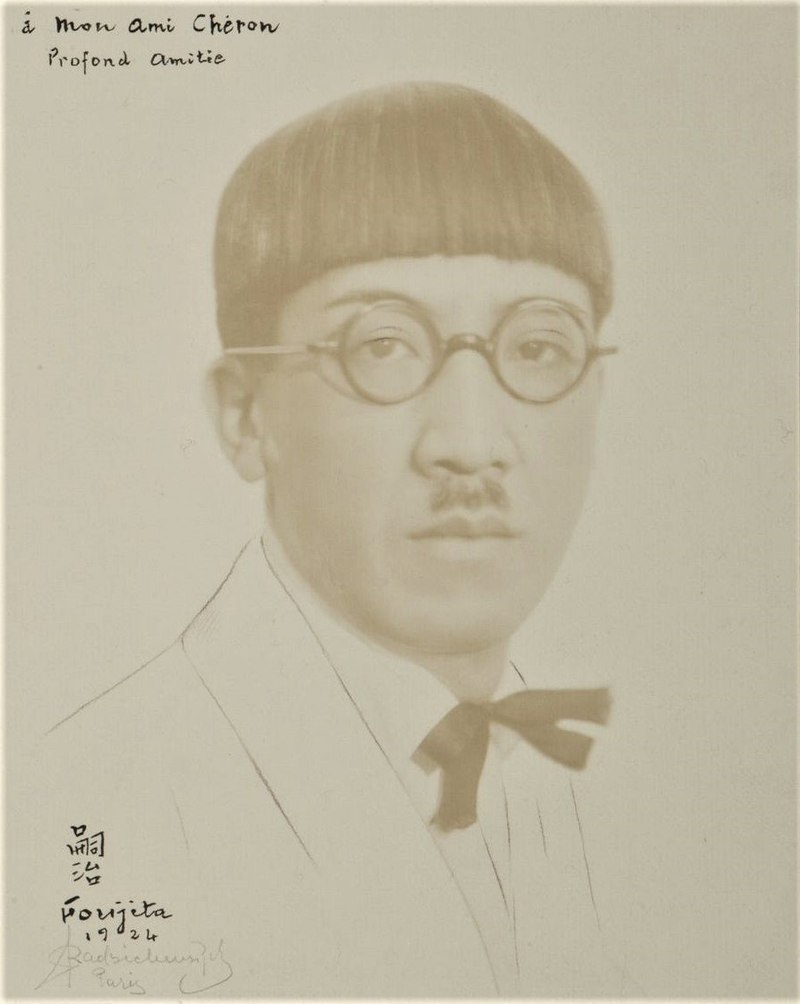 Born in Tokyo in 1886, Tsugouharu Foujita or Tsuguharu Fujita, is a complete artist (painter, draughtsman, engraver, illustrator, ceramist, photographer, film-maker, fashion designer...) of international renown. When he arrived in Montparnasse in 1913, the cubist compositions and paintings of the Douanier Rousseau in Picasso's studio encouraged him to join the avant-garde of Modern art. Foujita became one of the most important members of the École de Paris. He became friends with Modigliani, Pascin, Moïse Kisling, Chana Orloff, Soutine, Derain, Vlaminck, Fernand Léger, Juan Gris, Matisse...
His first solo exhibition in June 1917 was a success; he exhibited 110 watercolours in a half-Japanese, half-Gothic style. He participated in the painting salons in Paris, Brussels, Germany, the United States and Japan. His paintings of women, children and cats were acquired by some of the most important collectors during the Roaring Twenties in Montparnasse.
In 1955, he obtained French nationality. He converted to Catholicism 4 years later and took the name Léonard. In 1964, he decided with René Lalou to build and decorate the Notre-Dame-de-la-Paix chapel (Foujita chapel) in Reims. Léonard Foujita died in 1968 in Zurich.