We know about Elsa Schiaparelli's collaboration with Salvador Dalí and Léonor Fini, but also Yves Saint-Laurent's famous Mondrian dress or the fabrics of Paul Poiret and Raoul Dufy. Apart from collaborations, many artists were inspired by the fashion of their time, such as Jean-Gabriel Domergue or René Gruau. This week, discover a selection of elegant designs.
Jean Gabriel Domergue : the invention of a model
Jean Gabriel Domergue is the painter of women. Although he had a classical educational background, he was sensitive to the upheavals of his time, which he could not help but express in his paintings. In his opinion, the dress should be made for the body and not the other way around. The women he portrayed were often dressed in sheath dresses and bustiers.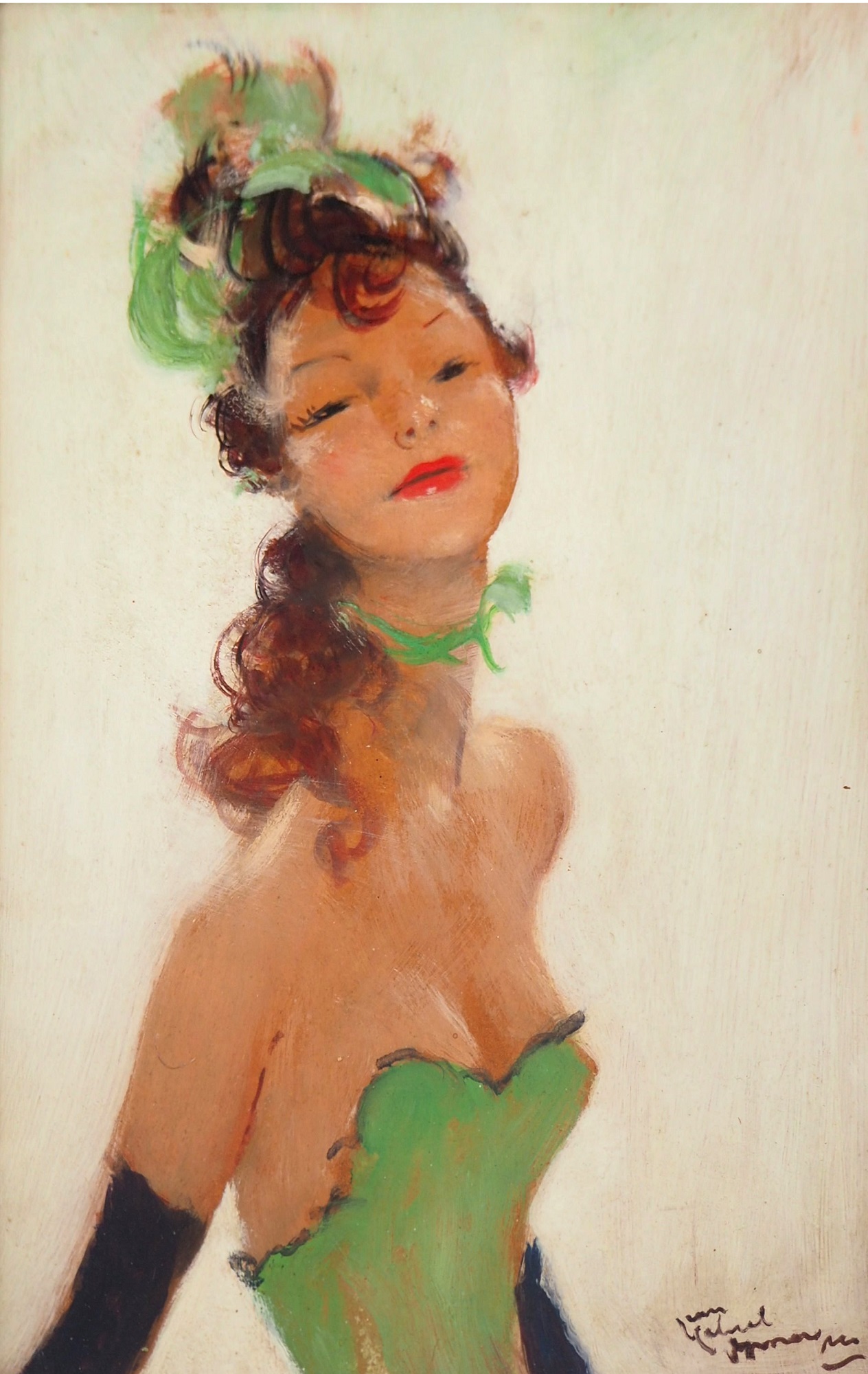 Jean-Gabriel DOMERGUE
Young woman in green

Oil on hardboard
Signed lower right
Dimensions at sight 31.5 x 22 cm
Presented in a gilded wood frame 44 x 34.5 cm
These tight-fitting dresses are nevertheless chic because of their elegant lines, which highlight the female shape. The painter wanted to emphasise the shoulders and especially the neckline. He dresses the uncovered arms with long gloves and accessorises their outfits with fascinators and pretty jewellery.
The painter's representations caused a sensation, Jean-Gabriel Domergue had practically invented a model and the women of the time wanted to adorn themselves like the women in his paintings. Thus, he designed dresses, hats and accessories for Paul Poiret or Henri Marque, the great couturiers of the time. He said about the dressmakers that they had to admit that "the woman has a body and that the dress must be made for the body, if the body in movement can be seen under the fabric, then the fashion is beautiful."
René Gruau: Dior's prodigal
For his part, René Gruau worked as a designer for major haute-couture houses and magazines. The Italian artist, who wanted to become an architect, published his first fashion drawings at the age of 15. He moved to Paris in 1928 where he met another young fashion designer, Christian Dior.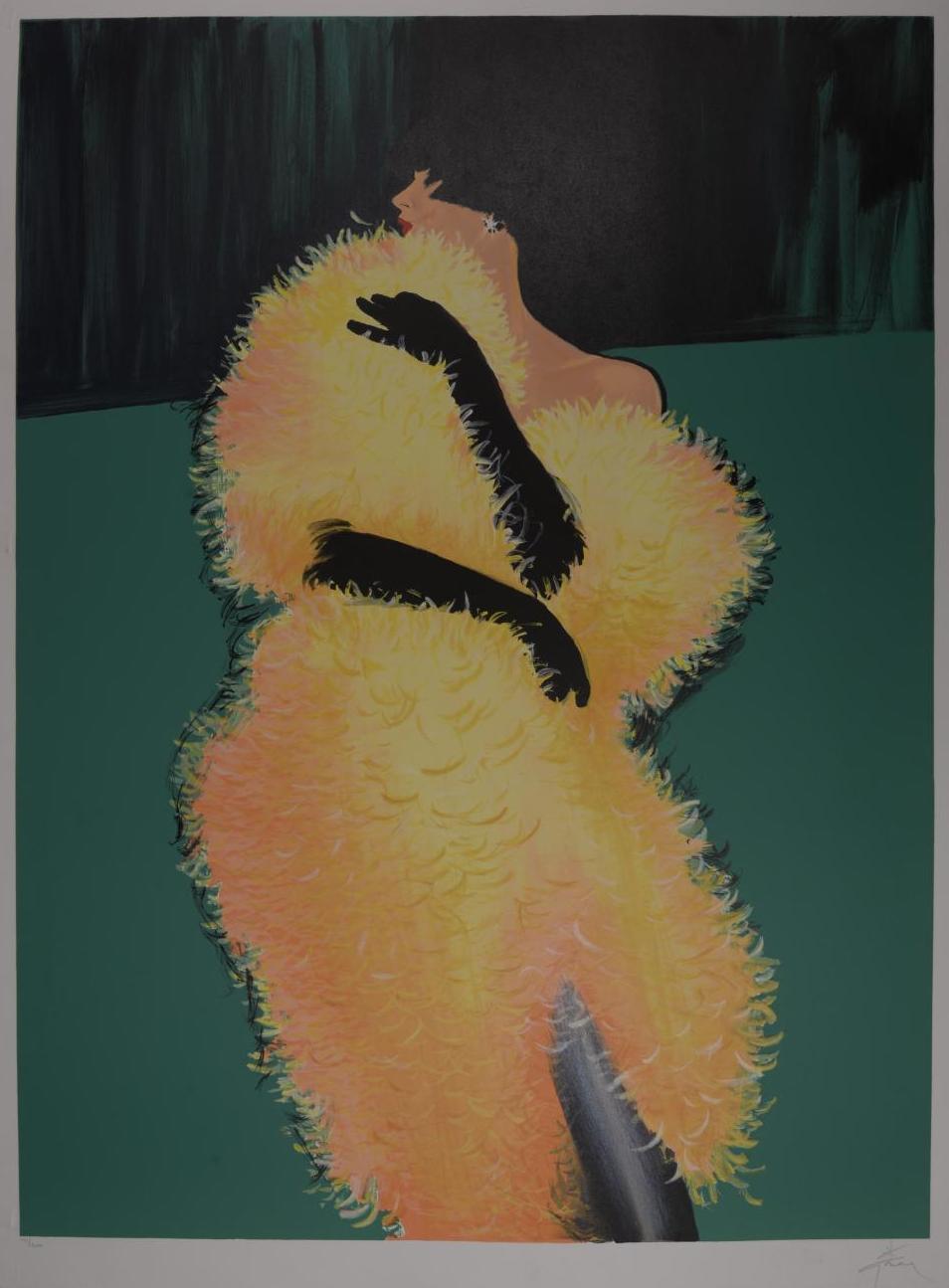 René GRUAU
La femme en jaune, 1990

Original lithograph on Vélin d'Arches paper
Hand-signed lower right margin. Arches' watermark right below
Numbered 191/300
Mourlot's blind stamp on the bottom left corner.
Dimensions:
38.2 X 52.2 (inches) / 132.5 x 97 cm
Gradually, collaborations with women's magazines increased: Gruau illustrated Vogue, Fémina, Marie-Claire, Silhouettes, L'Officiel de la couture... He designed models for Balenciaga, Balmain, Fath, Piguet, Givenchy, Molyneux, Rochas... From 1947 until the mid-1980s, he worked for Dior, which remains his most lasting collaboration. In particular, he directed the advertising for the Miss Dior perfume, followed by other perfume ads, including the famous Eau Sauvage.