Jean Cocteau created numerous drawings. Centaurs, falcons, bathers, ephebes or mythological characters: Jean Cocteau's works on paper are recognisable by their refined and poetic style and their reference to ancestral myths. This week, discover a work depicting a knight with a falcon created in the style of the frescoes in the Chapelle Saint-Pierre in Villefranche-sur-Mer.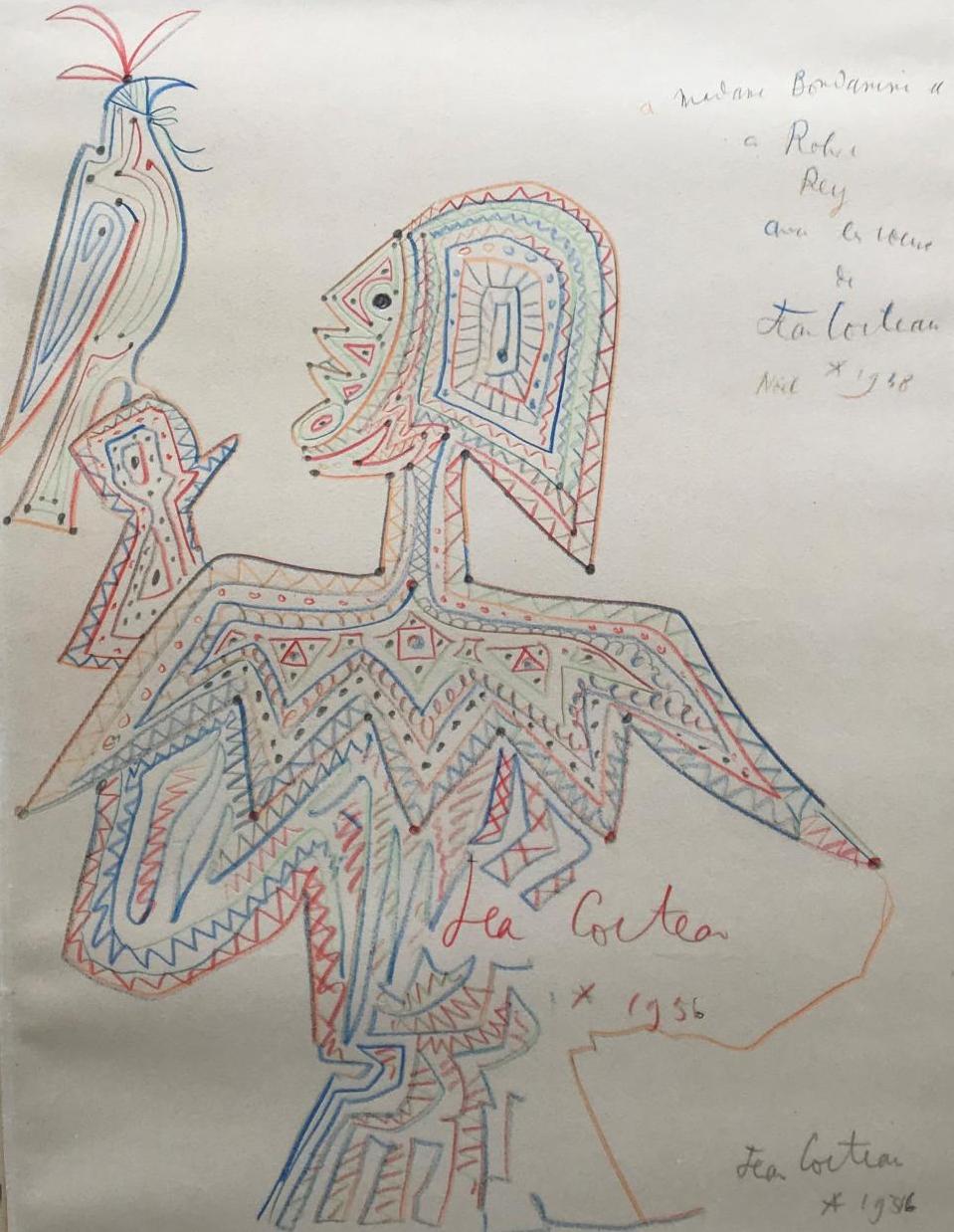 Jean COCTEAU (1889-1963)
The falconer, 1956
Drawing autographed, signed and dated (1956)
This dedicated drawing is a rare testimony to Jean Cocteau's art as it combines two distinct works. The Chevalier au faucon (Knight and falcon) or the Fauconnier (Falconer) is directly inspired by the Arthurian myth and the Chevalier de la Table Ronde (Knight of the Round Table), a play he began writing in 1932 and which was first performed in 1937. For this drawing created in 1956, Jean Cocteau was also inspired by his work for the Saint-Pierre Chapel in Villefranche-sur-Mer, and more particularly the stained-glass windows. The decoration of the chapel was completed a year later. A knight with a shield decorated with a falcon is depicted inside the chapel.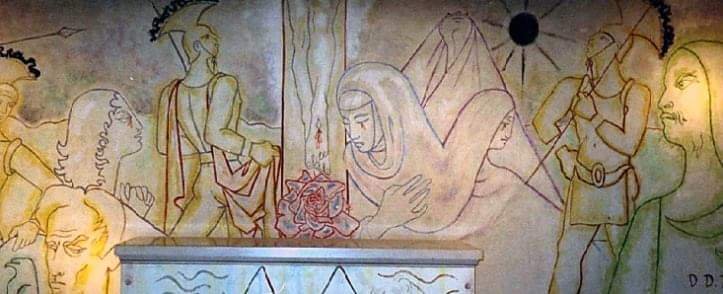 Some historians see the falcon as a representation of the Egyptian god Horus or the Roman emblem. Others see it as a symbol of masonry, some of whose ideas Cocteau would have shared.
This drawing bears a dedication in the upper right-hand corner: "A Madame Bondanini et à Robert Rey avec les vœux de Jean Cocteau Noël 1958" ("To Madame Bondanini and Robert Rey with the wishes of Jean Cocteau for Christmas 1958"). Robert Rey was an art historian and friend of Henri Matisse, François Pompon, André Dunoyer de Segonzac and Maurice Utrillo.
On the art market, Jean Cocteau's drawings enjoy a stable price. Drawings with an annotation, accompanied by a text or an autograph dedication can fetch higher prices.
Biography of Jean Cocteau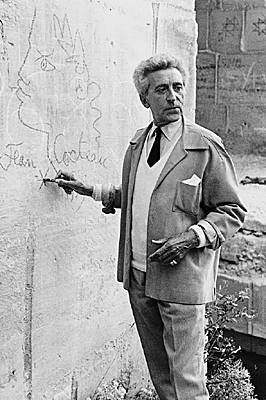 Jean Cocteau has always insisted that he was above all a poet. A multi-faceted artist, he experimented with drawing, painting, sculpture, ceramics and tapestry. As a dramaturge, he wrote and produced plays, and as an actor, he also directed several movies.
In 1909, he achieved great success in literary circles, introduced in particular by Édouard De Max. He published La Lampe d'Aladin (Aladdin's Lamp), his first collection of poems, as well as articles and drawings in the magazine Comœdia. In 1913, he met the prestigious Serge de Diaghilev, director of the Ballets Russes for the creation of Sacre du Printemps (The Rite of Spring) (Stravinsky). He worked with Picasso, Modigliani, Max Jacob, Apollinaire, Érik Satie, Blaise Cendrars, Aragon, Tzara and André Gide in all forms of artistic expression.
Eager to express his modernity in all media, Jean Cocteau uses the big screen to continue to express his overflowing creativity. His first film, Le sang du poète (The Blood of the Poet) in 1931, was financed by his patron, the Viscount of Noailles. La Belle et la Bête (Beauty and the Beast), Les Enfants Terribles and Le Testament d'Orphée (The Testament of Orpheus) are emblematic works. Jean Cocteau died on 11 October 1963 in Milly-la-Forêt.