Bengt Lindström (1925-2008) is a contemporary artist known for his monumental paintings, murals and sculptures. He is one of the most internationally recognised Swedish painters. His colourful work in the expressionist tradition continues to fascinate the viewers. This week we present to you an oil on paper mounted on panel.
Bengt LINDSTRÖM (1925-2008)
Cheerful young girl
Oil on paper mounted on the panel
Unsigned
On panel 107 x 77 cm
Presented in a black wooden frame 123 x 93 cm
A colorful and mystical work
This strong and colourful work is particularly representative of Bengt Lindström's style. On a coloured background tinted with red, green, yellow and blue, a naked figure with an enigmatic face sits in the centre of the composition. Neither abstract nor figurative, this work is imbued with folklore and is reminiscent of the masks and strange figures that populated the stories of his childhood. Bengt Lindström has been influenced by the myths and legendary tales of Scandinavian culture. His works are deeply imbued with spirituality and mystery, both of which are an important artistic reflection for the artist.
The pure color
Bengt Lindström's first paintings are figurative portraits and self-portraits. At the end of the 1950s, the artist moved to France and studied alongside Fernand Léger. His style became more and more defined: he painted directly on the canvas, on the ground, in large buckets of pure colours: mainly blue, yellow, green and red. His technique is vivid, and he uses other materials to such an extent that one could almost speak of painting-sculpture. Lindström's had his first solo exhibition in Stockholm in 1954. He became acquainted with Bogart, Marfaing, Maryan and Pouget and later with Asger Jorn, whose work influenced him considerably. In 1962, he participated in the second Nouvelle Figuration exhibition in Paris; in 1964.
The importance of lithography
Although Bengt Lindström has produced many paintings, the Swede has also devoted himself to sculptures and lithographs. In 1948 he discovered the engravings of Chagall and Bacon and made his first lithographs, a medium that was to play an important role in his work. The Swedish artist's works are still sought after by collectors and the prices of his paintings can reach up to 20,000 €.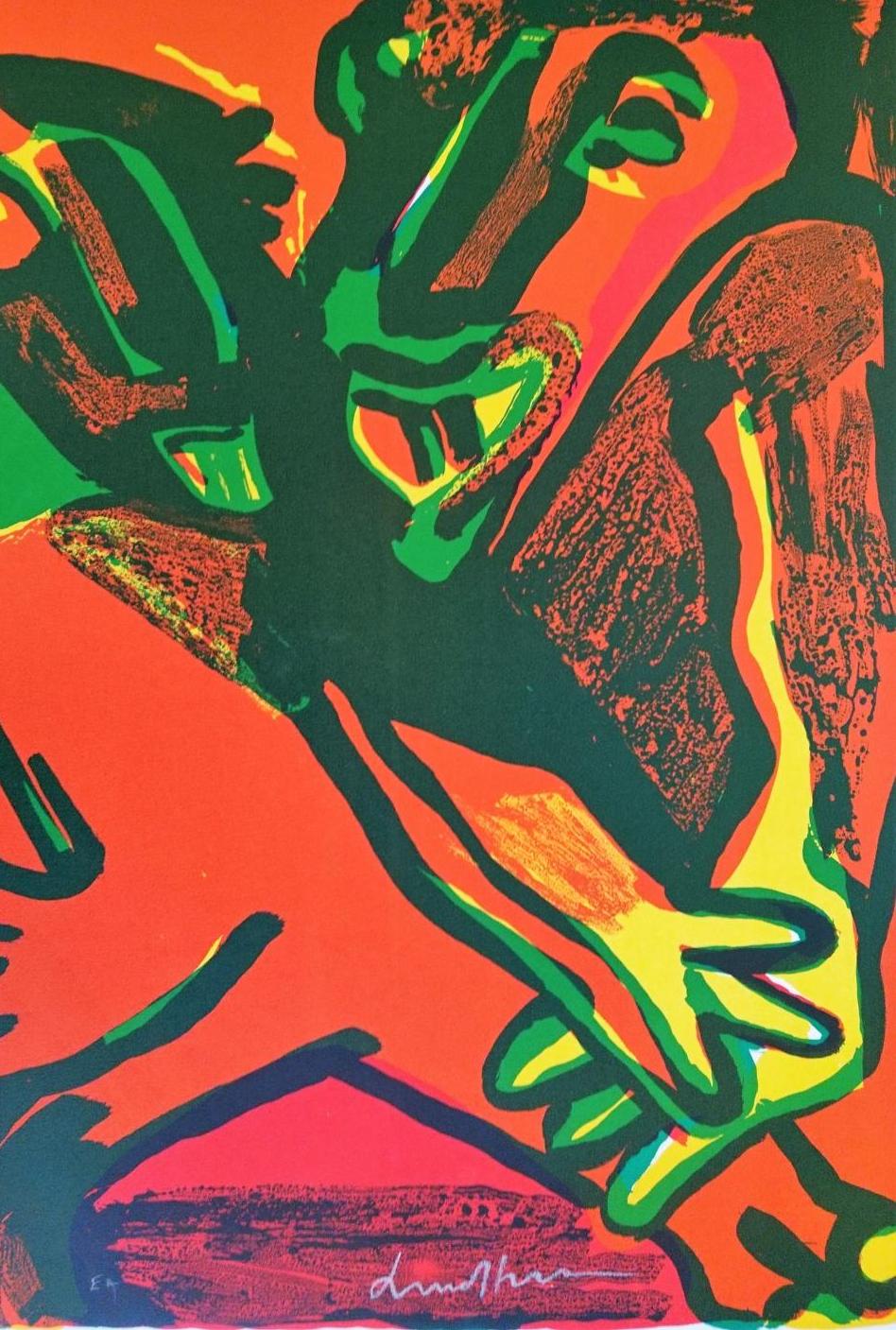 Bengt LINDSTRÖM
Untitled
Original color lithograph on paper
Hand signed in pencil & justified E.A. (Artist Proof)
74,5 x 54 cm