Rejecting the traditional artistic gesture is Arman's approach. With his accumulations and in particular the Poubelles series, Arman glorifies what was meant to disappear. This week, we present this series to you a selection of sculptures by the artist.
ARMAN
Waste paper bin, 1964
Accumulation of objects (contents of a wastepaper basket)
Dimensions: 72 x 52 x 12 cm.
This work is recorded in the archives of Madame Durand-Ruel under number 1215.
In the work Poubelle à papiers, Arman collected the contents of a paper trash can. In this accumulation, different kinds of paper can be seen: newspapers, book pages, magazines, etc. The artist has filled the box to its maximum because the paper sticks to the wall. The ochre colours dominate in the composition despite a few touches of blue. With no figurative elements, the box almost looks like an abstract work.
Denounce mass consumption ?
The Poubelles series is set in the particular context of Les Trente Glorieuses (The Glorious Thirty). A period of prosperity during which the consumer society continued to develop. In 1959, Arman started this series by collecting waste in dustbins. Once he had finished collecting the waste, he assembled it in glass or plastic boxes or in jars almost to the rim, a pertinent illustration of excessive consumption and waste. Like César, who compressed metal scraps, Arman appropriated waste in an equally radical gesture. As a real artistic risk-taker, Arman made bins to expose their contents, which was daring for the time and his sculptures obviously shocked the public.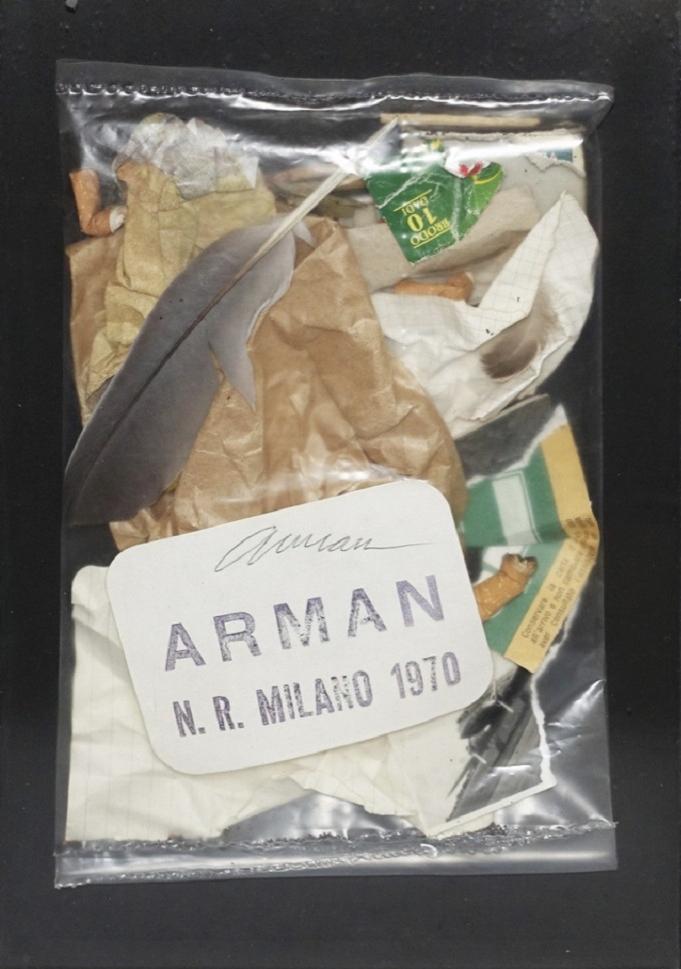 ARMAN
Pocket bin (or Milan bin), 1970

accumulation of subway waste
Dimensions: 19.5 x 14.8 x 2.5 cm.

In 1960, he reached the peak of his series with his exhibition Le Plein at the Galerie Iris Clert. On this occasion, the artist filled the space with 36 square metres of rubbish in response to the exhibition Le Vide organised by his friend Yves Klein two years earlier. This exhibition can be seen as a subversive act and indeed a critique of the art market.
Arman and New Realism
Born in 1928 in Nice in the south of France, and died in 2005 in New York, Armand Fernandez, known as "Arman", was an internationally renowned Franco-American artist, particularly known for his "accumulations" and cut-outs of objects. As a successor to Marcel Duchamp, he was one of the first artists to incorporate manufactured objects from consumer society into his work. The act of creation in Arman's work can be summed up by Lavoisier's quote: "Nothing is lost, nothing is created, everything is transformed".
In 1961, under the leadership of art critic Pierre Restany, he founded the Nouveau Réalistes group with Yves Klein, alongside Raymond Hains, Martial Raysse, Jean Tinguely, Jacques Villeglé and Daniel Spoerri, who were later joined by César, Niki de Saint Phalle, Mimmo Rotella and Christo.
His works are housed in the world's leading contemporary art museums, including the Centre Pompidou in Paris, which devoted a major retrospective to him in 2010.